Last night I watched a 1992 episode of Land & Sea, the long-running CBC documentary series about Newfound and Labrador. The CBC YouTube account has a playlist with over 120 episodes, digitized in all of their low-resolution glory. These videos provide us a glimpse into rural Newfoundland, acting as a fascinating time capsule of coastal outport life.
The episode I watched was about Lloyd and Carl Wheaton, who lived in Notre Dame Bay on the north side of Newfoundland near Fogo Island, but struggled to make ends meet fishing for lobster. The waters are icy for large parts of the year, limiting and sometimes eliminating the fishing season. They found better luck in Placentia Bay, on the south coast of Newfoundland, and eventually migrated there full-time, to an abandoned outport community called Prowseton.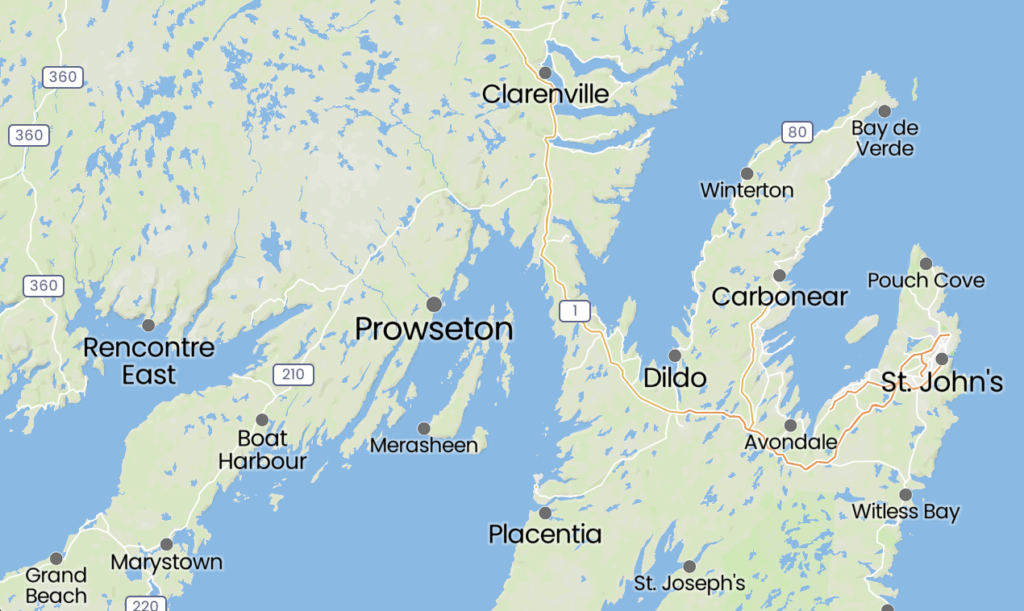 You won't find Prowseton on Google Maps, although I found a reference on MapCarta that situates it on the western coast of Placentia Bay. You will find it in the Wikipedia article called List of ghost towns in Newfoundland and Labrador, a depressingly long and growing archive.
But in '80s and early '90s, Lloyd and Carl Wheaton (along with their wives) repopulated this tiny fishing village. The Land & Sea episode follows their daily work: fishing of course, but also gardening, chopping wood, and preserving food. In one scene the two couples go fishing for scallops and lobster, pulling their boats ashore on an rocky beach to cook them for dinner. Over an open fire, with no cookware at hand, they roast the fresh scallops like marshmallows on a stick.
Carl is the older of the pair, with Loyd being his nephew, and he's perfectly content with life in Prowseton. He shows the interviewer his retirement home, a cabin built just up the hill from his current residence. Construction is complete, but he hasn't moved in yet. He's waiting until the day he turns 65, and figures he'll just "dirty it up" if he were to live there while still fishing every day.
Meanwhile Lloyd reflects on how he's living life the way his parents, or grandparents did: largely self sufficient, fueled by the sea and hard work. His wife goes back to Notre Dame Bay for part of the year, since they have family who stayed behind, but he decided to live in Prowseton year-round.
You can watch the episode above. This is just one of hundreds of episodes of Land & Sea available on YouTube, and even that is only a fraction of the total archive. Dating back to 1964, there are 48 seasons! Another way to find this content is on the CBC podcast The Broadcast with Jane Adey, which regularly intermixes archival episodes of Land & Sea in their feed. You can also follow @landandseanl on Twitter.