We only had a week in the Faroe Islands, when we visited in summer of 2018, but I gained a good sense of the country by traveling to its farthest corners. We went to places at the extents of the cardinal directions, like the westernmost island of Mykines, home to a single village where fewer than a dozen people live year-round. We visited Suðuroy, the southernmost island, plunging downward through mountains to find the comparative metropolis of Sumba, housing 240 people at the bottom tip of the country. The northernmost settlement is Viðareiði, nestled in a mountain basin on the island of Viðoy, with stunning views of its neighboring isles to the west, their finger-like tips extended in procession. All of these are remote places, but nothing compared to the one point on the compass we didn't manage to reach: the easternmost village of Hattarvík, on the island of Fugloy.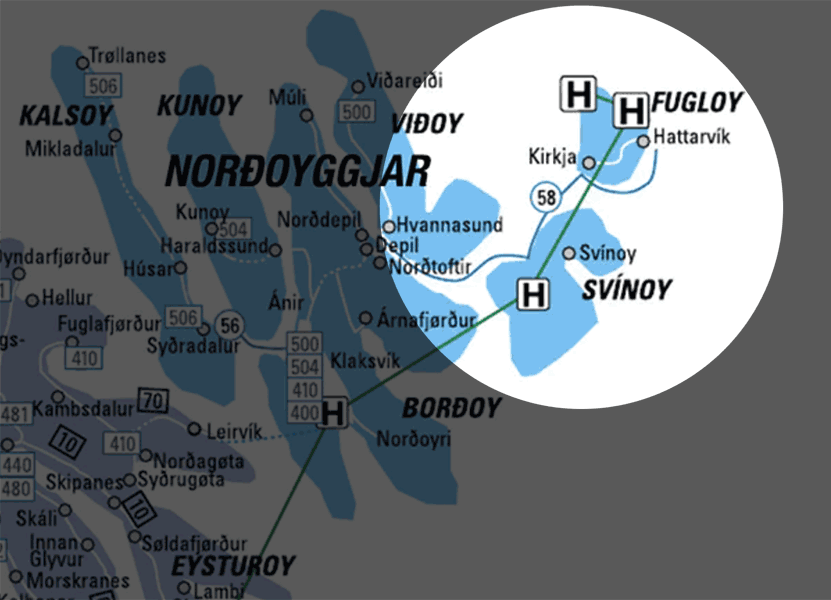 The six islands of the Norðoyggjar region are reached with varying difficulty, the core few connected easily via tunnel or bridge, to both each other and the neighboring region of Eysturoy. The ferry to Kalsoy is predictable, crossing from Borðoy via relatively calmer channel waters, but the eastern islands of Svínoy and especially Fugloy are a different story. Fugloy, which translates to "Bird Island" is home to thousands of seabirds that no doubt prize the isolated cliffs as a protected spot for their nests. But the island's separation from the northern cluster requires traveling in open waters across the rough Atlantic, making accessibility unpredictable. Hattarvík is particularly isolated, as the final and most exposed stop on the ferry route. There's a helicopter to the village, stopping a few times per week (weather permitting), but Atlantic Airways doesn't allow for same-day round trips, and there's no place to stay overnight. In short, it's not easy to visit Hattarvík, so despite spending two nights in an Airbnb near the Hvannasund ferry departure point, the co-conspirators of weather and scheduling kept us from including it in our trip. Next time.
While I don't have first-hand experience of what Hattarvík is like today, I do have a surprisingly good sense of what it was like in 2001, thanks to a documentary called Burturhugur – Faroese Observations, directed by Teitur Árnason and produced by Feelgood Films. In this hour-long feature we meet seven people, the sum total of residents at that time. The opening sequence describes Hattarvík as "15 houses, 4 ancient farms, an empty school, a big church, 23.5 Faroese shares of land, a daily post-boat and helicopter connection, 600 sheep, no cows, but a former sailor, four farmers, one woman, and a youth."
We follow the daily lives of these seven people, which revolves around familiar activities: clothes mending, sheep tending, the mail boat, and a televised bingo game. Their conversations expose their loneliness, a deep sadness and sense of loss wrapped around a proud core of commitment to family, home, and land. This is not a romanticized vision of isolation.
"No, I don't think anybody will ever return to this place…I don't think so. Not even the farmers want to live here, so…I don't think people are capable of living here, they can't stand it in the long run. There are no people here, it gets too lonely."
"It is going to be a place with summer houses, that's what will happen. I'm quite sure."
One of the more striking scenes of diminished life in such a small village takes place in the church. Rows of pews, built to hold scores of parishioners, are filled with only three men, who listen to a fourth, as he reads from scripture and rings the bell.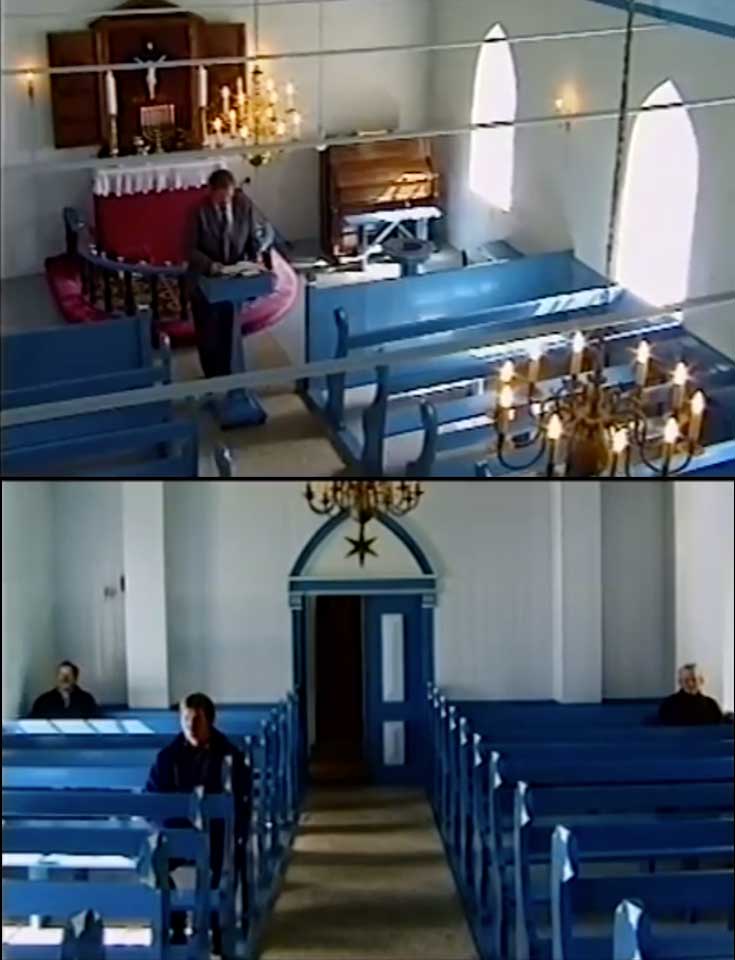 "Most of the year there are very few people attending church. There is seldom more than four or five people."
Despite the sense of loss that permeates both social life and the built environment, there are timeless scenes rooted in the natural beauty of the island. Tending to sheep, hunting birds on the cliffs, cutting grass, building fences and stone walls. The dramatic backdrop of islands and sea give these simple tasks a majestic quality, a glimpse perhaps into one reason to stay.
"I noticed in my dreams that I tend to recognize the locations. They are all from this place."
A daily visit (weather permitting) from the mailboat Másin sets a rhythm for the villager's connection to life beyond the island. The movie shows a women on the radio with the boat captain, who tells her that they're leaving Svínoy now, and he'll signal her once they stop at Kirkja, the neighboring village on Fugloy.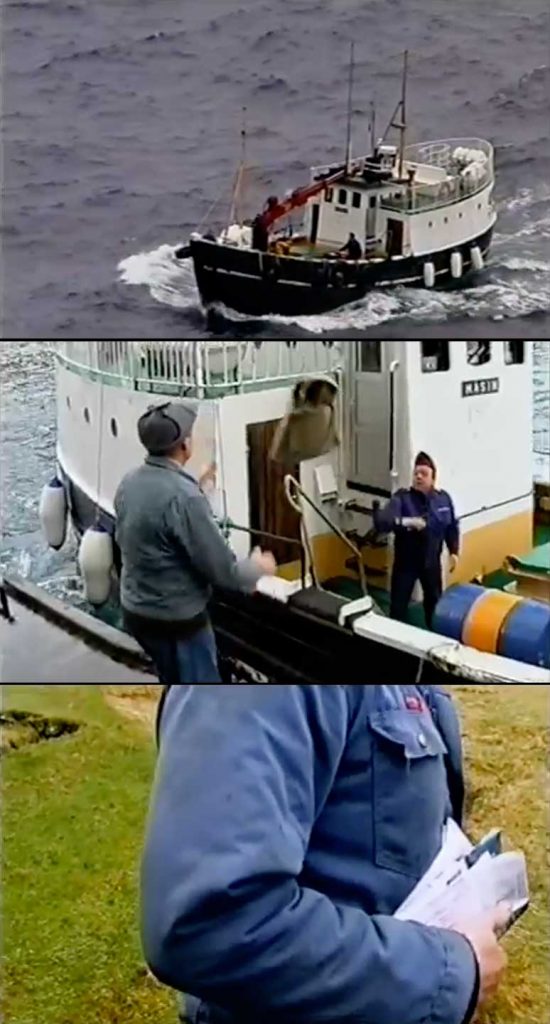 At the end of the documentary, residents watch a Faroese TV segment that pinpoints the technological moment of its broadcast. A news anchor interviews the Hattarvík council head (who is shown using a fax machine) and they talk about the potential for mobile phones and the internet to transform the island.

"I think the new technology of the present with all the good communication, it could just happen that people would move back here. I expect that too."
I don't know what role the internet has played on Fugloy since 2001, but according to this 2019 population map Hattarvík still has fewer than 13 residents. Maybe the woman in the film was right that it's mostly summer homes now, or perhaps the former sailor said it best that it's simply too lonely for people to stay. I'd like to make the trip to Bird Island some day, and when I do, I'll be looking for familiar sites from this movie, which has given me such an intimate look into the Hattarvík of 20 years ago. What remains the same? What's gone, or new? Who has moved on, or moved in — and was it the internet that made it possible?
Quotations in this post are from the film, but not all are credited by name because there was not an explicit subtitling of people's identity. The credits say "Special thanks to all the people of Hattarvík: Simun Gullaksen, Zacharias Zachariassen, Katrin Fuglø, Leivur Fuglø, Steingrím Fuglø, Hanus Hansen, Mikkjal Petur Kerlok." If you know any of the individuals in the film, and can tell help me match names to faces, I'd be happy to update this post with proper attribution.