When I told a colleague I was planning a trip to the Faroe Islands he had two questions for me: 1. Had I seen their insanely picturesque football fields? and 2. Did I know about The Faroe Islands Podcast? Both were news to me. By the time I learned about the podcast it was already nine years old, having begun in January 2009 after the journalist Matthew Workman noticed a visitor to his blog from a country he'd never heard of. It was all down the rabbit hole from there. The internet didn't have that much content about the Faroe Islands back then, at least not in English, so Matthew started blogging and podcasting about it.
I devoured the episode archive before my trip, which really helped me appreciate the country more when I arrived. We had a stop-over in Iceland for a few days, and listened to the podcast non-stop from Keflavík to Höfn. Topics are wide ranging (politics, religion, music, football, whaling, sheep, tunnels) and not always what you'd expect. Sometimes Matthew will go to a remote village, or a street corner in Tórshavn, and just record environmental sounds. It's quirky at times, but it's fantastic because I completely understand why this place has gotten under his skin and he can't let it go. It's the same reason I started this blog.
Matthew lives in Portland, Oregon but works with collaborators in the Faroe Islands and travels there regularly. New episodes come out every 2–3 weeks, although it's not a strict schedule. I'm actually kind of happy that I haven't gotten through the archive yet; it's nice to know that there's an episode waiting for me whenever I want. Although the podcast gets funding support from Atlantic Airways and Visit Faroe Islands it's not enough to cover the costs, so Matthew hosts a yearly fundraiser. I have to admit I was excited to hear my name read out in his thank you to supporters at the beginning of Episode 316.
Gekkur: Then + Now
You don't need to listen to The Faroe Islands Podcast in chronological order. In fact, I would suggest jumping around the archive to find subjects that interest you most. That said, the latest episode (Podcast 317: Let's Play Gekkur) is a great example of how Matthew covers topics that are commonplace in the Faroes, but completely absent from the English-speaking internet.
Gekkur, which I'm guessing translates to something like "Joker," is a televised bingo game where participants buy game cards at a local Bonus and follow along live on Friday nights. If they win, they call in to the show and enter a series of complicated bonus rounds where they can choose to keep their winnings, or bet on the potential of a bigger score. Also, there's a spinning wheel.
As I listened to the episode I realized that I'd actually seen Gekkur being played before, in the 2001 documentary about Hattarvík that I recently wrote about on this blog. In that post, I called it "a televised bingo game" because I didn't know the name. How much has changed about Gekkur in the last 19 years? Let's take a look: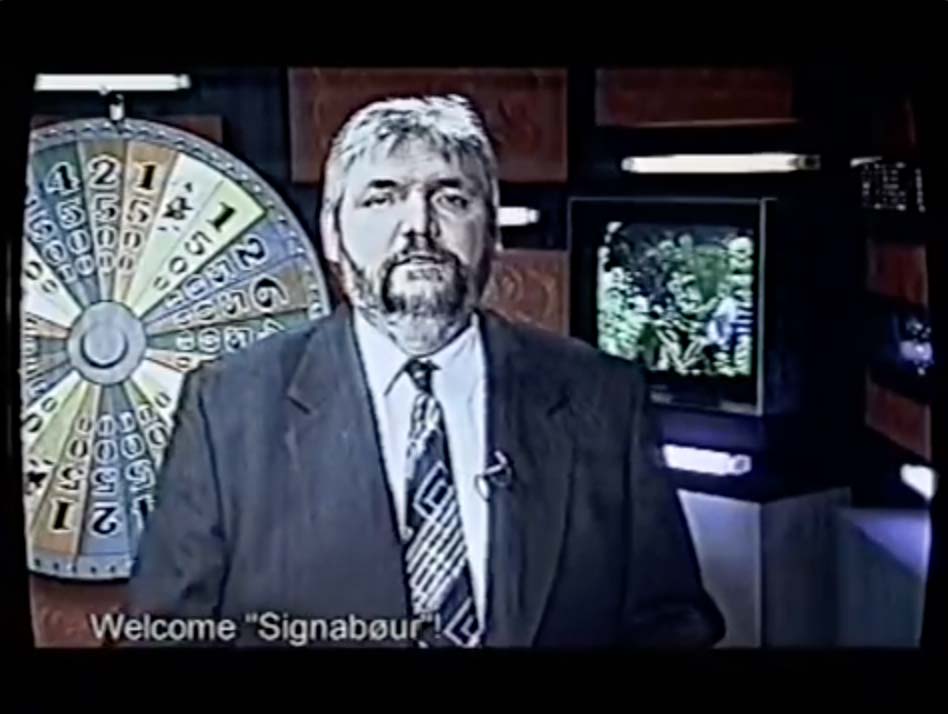 300 and Counting
I'm happy to see that after a decade of steady publishing Matthew's fascination with the Faroe Islands is unabated. For the 300th episode there was a live taping in the Faroes, and I was so close to attending in person. What a coincidence that it was happening during the one random week that I happened to be in the country. I found out at the last minute, but alas we had to fly onward to Bergen the day before.
You can listen to the The Faroe Island Podcast via their website or by with your favorite podcasting app. I personally use Overcast.